"Shaker Rainbow", Wolfgang Tillmans, 1998.
NOTE: These videos are no longer available.
For our final regular Sunday "being sad is not a crime", I am presenting video work by some of my favorite people in the world. Marcus Scott Williams, KT Pe Benito, Rose Harding, and myself. This is a one day only video art show, after today access to the videos will dissolve. So take some time today to view some really wonderful work. After today, the newsletter will be irregular, updating as time allows.
The following video work is both coherent and resistant in the way it plays with thinking through self but also thinking broadly under the umbrella of utopia. That is, creation as an act of will and wonder. These artists do this parsing in very different ways and with different aesthetic and ideological strategies, but I want to consider the ways we narrow the rubric of utopia. Too often dismissing smaller, more trace kinds of repair and labor, the kind of things that Leah Lakshmi Piepzna-Samarasinha and Johanna Hevda discuss. Trace is perhaps not the right word here, but it gets at the idea of how this utopia and labor is seen. As just traces.
This idea of utopia and repair builds on Eve Kosofsky Sedgwick's idea of reparative readings. Sedgwick's ideas of reparative and utopian (non paranoid) art include Djuna Barnes, Jack Smith, and John Waters- if we can consider John Waters utopian, what else can be? What tenuous, fragmentary, slippery, or angry utopias exist beyond for instance science fiction like Ursula K Le Guin? Building on that, what does video allow us to reflect of utopia/dystopia/repair/paranoia that other forms of art can't? Or is video just as susceptible to capitalist sabotage and co-option? How can utopia include sadness? Being sad is not a crime, as Arthur Russell so beautifully reminds us in his song "Love Comes Back", where I got the name of this venture.
I hope these videos allow you to think through the concepts I've been writing about and beyond, spinning new cosmos and new webs of art. These are some of my favorite artists working now.
KT Pe Benito, @playpinay on Instagram, ktpebenito.com
KT's work is eclectic, nuanced, and pleasurable. I have a vivid memory of walking around the Queens Museum in early fall 2018 with my roommate and spending a lot of time with KT's installation Entries to Faustina. The installation featured a yellow pegboard filled to the brim with books, writings, dried mango, pamphlets, a self portrait, pictures, and more. It felt so generative and collapsing of the normative museum experience. Could we touch it? How should we encounter it? Could we take pictures to revisit the text? I felt similar encountering KT's collaborative installation Kitchen Islands made with Minh Bùi that collaged video, audience, poetry readings, pictures, and text. Both felt like encountering a physical space that held movement and possibility within, These videos both bring that joy and vision to questions of how we exist in frameworks and the ways we reshape, challenge, reformat, relive ourselves.

Marcus Scott Williams, @marcusscottwilliams on Instagram , https://mswthug.life/
Marcus' work is incredible. His memoir, sparse black whimsy, is genius. Buy it. These videos capture some of the work that those memoirs do with language with video. Calling it video diary or video journaling does not allow for the spaciousness these videos have, that wander and rove over physical and emotional landscapes. Marcus' readings are almost always silent, and when they are not, you are going to encounter something alive. Something new. I've seen Marcus hand out print-outs and I've seen Marcus do live-writings on computers, both of which feel like they emerge out of this practice of living as writing and writing as living. Currently he's in residency on Haul Gallery's Instagram doing a virtual version of one these live writings. Go follow them.
Rose Harding, @partimepirate on Instagram, hardingrose.com
I've known Rose for a long time. Her work is direct, poignant, and generous. I think her practice can be exemplified in two works. First, Bread Breaking in 2018, where she took a gallery and invited everyone to sit around a table and eat bread she made herself. Second, Sky Blanket in 2019, an exhibition at Rainbow Bakery where Rose painted a bunch of sheets of paper sky-blue and hung them with a textile piece around a coffee shop. I wish I'd been there to receive that warmth. Rose is always puzzling through what home means in a way that is touching feeling.
Grace Joshua Byron, @lordjoshuabyron, joshuabyron.com
I've been talking so much about my practice these past few weeks and the space of reflection, utopia, and queerness my video art has been moving to and away from narrative. I thought I'd share (again- just for one day!) what that work looks like. It's circulated in a few places on a DIY scale and during livestreams. But here are two short works to watch. I don't have any notions of objectivity.
Hi all, that's all for the month of May. :) Updates will now come as needed instead of weekly. Thank you for reflecting with us! Follow these artists wherever you can and if you want to follow my own work, we're still releasing three more episodes of The Nonbinary Carrie Bradshaw find them on Spotify, Apple Podcasts or go to nonbinarycarriebradshaw.com and listen until the finale drops in early July. <3
And finally, a final piece of art to look at for the month of June.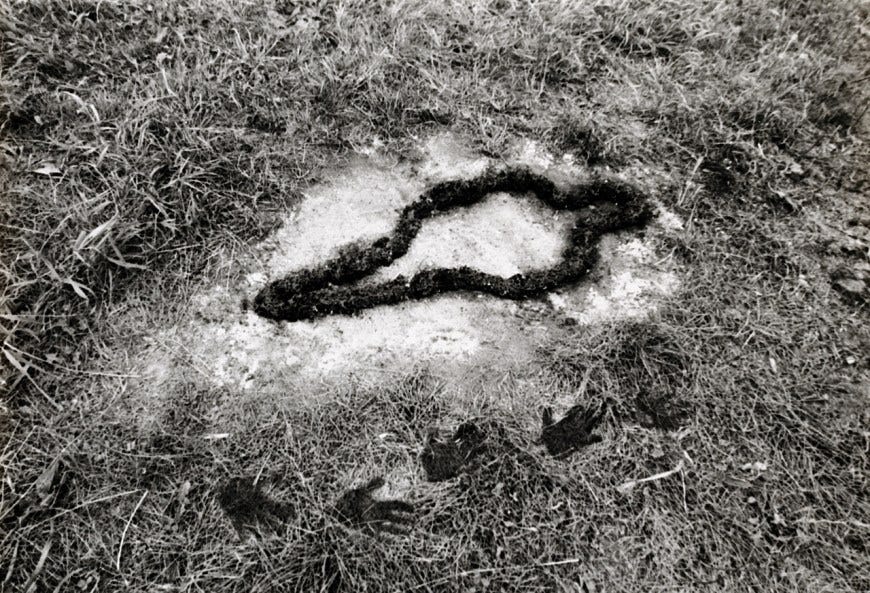 "Untitled: Silueta Series", Ana Mendieta, 1978.