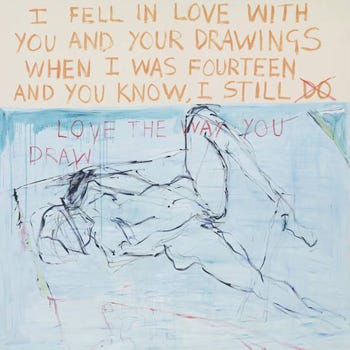 CREAKY FLOORS: Sometimes I don't know how to act in the bleakness of living alone. Sometimes I stare at the wall, really, truly. One night this week I sit and drink chamomile tea, think about art, think about exes, think about the kinds of dresses I want to be wearing, think about 100 gecs, think about the little lamp by my side and how I used to sit in a cabin reading Plath one summer. I was alone, truly alone then. I did not have many friends to text. And I was in rapture. I moved on to Dillard. The next year, I sat in a creaky house near the Great Lakes and devour Flannery O'Connor while flirting with a guy over text who was a hundred miles away.
TRACEY EMIN: Tracey Emin's "Exorcism of the Last Painting I Ever Made" a large collection of paintings that also constituted a large performance work in the mid 1990s, calls to mind other uses of the word exorcism. What does an exorcism entail? How can we achieve one? From a lost love, from failure, from patriarchy? Can an exorcism ever be completed or are they ongoing? Ghosts, demons, goblins, all lined up on the side of the road halfway through the journey of life. Emin's work has resurfaced due to the fact she "self-quarantined" in a box in a gallery for two weeks with just her painting materials, food, and so on, naked. The work is considered confessional. Many of the paintings she produced in this two-week period use text, many are portraits mainly of herself. Emin is often cited for her "vulnerability", "daring" in the way her work uses her own life as material. Her tent that had the name of everyone she'd ever slept with, her bed littered with condoms and clothes and food. The work is often critiqued as therapeutic or personal, as if the self is not a valid vessel of artistic merit. As if we don't experience the world as a self and that examining that self does not produce theories for how we live in the world. I remember first seeing Emin's Everyone I Have Ever Slept With 1963-1995. It felt like one of the most important pieces of art I'd ever seen. Freedom. Joy. Fun. It turned the mythos of who a woman dated as tabloid-fodder into self-ownership, curiosity, and a medium of its own. Years later, I would discover Emin's neon works, bright neon signs with various slogans, often kitschy or poetic in their elegance, a genre now almost universally seen in LA galleries and chic boutiques. Emin's are perhaps more confrontational, not in the Jenny Holzer way, but in a more melancholic and slippery way. From 2010 there is "I Whisper to my Past, Do I have Another Choice". The work is less direct than her earlier work in the 1990s, but strikes the same sentimental effusive tone. Romance is worth making serious work about. The work Emin made in her self-quarantine is varied, explosive, and literally messy. It's splatters, lines, drips, drops, movement, words, half-sketched figures, manifestos, pep-talks, bright colors on top of muted browns, blues and pinks, and gobs of paint on top of gesso. Many seem to be pointing to these works as a sign of something to hold up in our own time of quarantine, either pointing to productivity in self-isolation as beautiful or pointing to the confessional, intense hermetic way of living as a way spiritually out of the physical confines they may find themself in. The work is being shown in Instagram stories over and over, but to be specific the paintings (the final products- about 72 works ranging from canvas to paper to actual paint cans) are not what the circulating image shows. The circulating image shows the box Emin was in for two weeks with paint all around her. It does not produce an intelligible image of Emin, stark naked, painting, only the aesthetic purity of a messy, enclosed studio. Why do we love this image? Do we love a woman locked working to produce but don't care what she produces? Do we love the idea of creating but not the idea of the created work- in the same way we love to hear our friends are making but don't necessarily care to read or listen to see what they make? Do we not like the images Emin produced- often mundane- about the first cigarette in the morning or about learning to re-love the drawing style she had as a child- do those feel too trite for what we imagine a quarantined artist to make? My question is, why do we not want to see the images that Emin produced during this period? It seems to me that there is an investment in making, but not in looking. That it is better to make than to look, to do than to feel. We don't care either that Emin was able to make a choice to isolate, we merely believe the circumstances can be replicated in our time. We also don't know by looking at this de-contextualized image that Emin had all but stopped painting for a long time before "Exorcism of the Last Painting I Ever Made" and that she had recently had an abortion and was in a deep depression for quite a while before making these works.
MESSY TRANS: I don't know what I'm doing right now. I don't. I'm spinning a lot of plates but mostly they're about to stop spinning by the middle of the summer. I read all the "Crisis Zone" Megg Mogg and Owl that are out so far. Delightful, wild, awful. Is it a paranoid or reparative reading space? I feel for Booger and for Megg, who use each other, wildly. I wish there was a wikia for Megg Mogg and Owl, it's so fragmentary and clearly has a genealogy, a history, worth understanding. I read a Medium essay about how Booger is allowing trans-feminine people to be gross and not perfect and messy, the essay seems to worry about that and also believe in allowing for that. Megg Mogg and Owl creates a world where awful people, disaffected problems, paranoiacs, OCD, and depression co-exist. Another place where houses literally are on fire, and the characters live to see another day of ketamine, cheating, and pain.
SCOTT STREET: I listen to Phoebe Bridgers. I think about making a mixtape that I won't give. That's what I haven't given myself, the teenage sadness. The gestures of it. The kind of depression that is measurable. Not the kind that causes the staring out the window for over ten minutes. I think about the interview Phoebe Bridgers does with Hayley Williams in a 100 gecs hoodie. How I want that messy, hoodie, silver-hair femininity. I think about LA and the roses and the way the roses are next to the psychics and the graveyards and I see why Bridgers finds it easy to be sad in LA. The telescopes pointing to haunted theaters and UFOs. Will we ever see those planets we lived on again? I think of Ursula K Le Guin's utopias, of lovers in kaleidoscopic patterns, of worlds close to ours but not ours. I wish we were on a world just left or just right of this one. But we're not. We're in this one and we're miles apart in our apartments with summer inching along.
I hope you're doing well. As an announcement, I will continue to do this newsletter "Love Comes Back" for at least a few more weeks and may then discontinue it. I am paring down my internet presence to instagram, my website, and email. No more twitter for me! The Nonbinary Carrie Bradshaw continues with a new episode led by Alana Ruiz, subscribe on Spotify or find on nonbinarycarriebradshaw.com and please find a short video work of mine that co-stars many friends from Trans Monogamist and NBCB at PH Gallery. Also, this Friday, May 8th, Trans Monogamist is showing as part of Translations Film Festival. Finally, you can read an essay I wrote about Arthur Russell and loneliness at Entropy Mag. Ok. That was a lot. Love u!